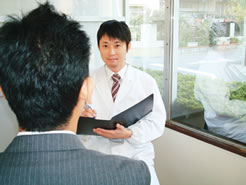 The problem of nosocomial infection in a medical facility or contamination in a pharmaceutical or food factory represents a huge risk that can sometimes threaten the existence of a company. Sick house syndrome and toxic substances such as asbestos and dioxin also put our health at risk on a daily basis.
Such threats to companies and to people's health are certainly not homogenous, and we need to measure and analyze their causes, and then to draw up and implement effective daily management based on scientific proof drawn from analytical results. It is also important to construct a continuous PDCA cycle to check the subsequent results and improve any inadequate points.
As a solutions company, we design very cost-effective, eco-conscious environmental management models and, along with our customers, improve the quality of the environment.
ISO14001 Certified

Corporate Name
Nihon Hoken Eisei Kyoukai Co., Ltd.
Head Office
17-2, Kotobuki 2, Suita-City, Osaka 564-0036, Japan
TEL. +81-6-6381-4381 FAX. +81-6-6382-9165
Establishment
1965
Capital
JPY10,000,000
CEO
Yuiko Miyasato
Employee
150
Business
Environmental Measurement, Working Environment Measurement, Hygiene Management, Janitorial Service, Pest Control, Bird Control, Cleanroom Cleaning
Branch
9-5-904 Koami-Cho, Nihonbashi, Chuo-Ku, Tokyo 103-0016, Japan
TEL. +81-3+5651-2150 FAX. +81-3-5651-2154
Subsidiary
Sanipro Co., Ltd.
http://www.saniprofoods.co.jp